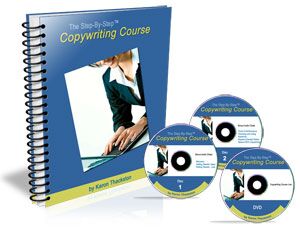 I get a lot of emails from people that want to become a copywriter. Whether it's to make a jump from the dying world of journalism, to improve the conversion rate of their website or to be a more persuasive business writer, there are many people that aspire to gain copywriting skills and improve the effectiveness of their writing.
But unlike learning to become a lawyer or an accountant, there are no formal qualifications or exams you need to pass to become a copywriter. To get started, all you need is an ability to write clearly and concisely and an understanding of the fundamental concepts that make writing more engaging and persuasive. Having a lucid writing style and a natural feel for the craft helps.
But it's not essential. It is, in fact, possible to train yourself to become a copywriter, and to launch yourself into a well paid and rewarding career. I should know because I started my copywriting business from scratch, without any agency or formal experience. All I had was an English and History degree, a background in creative writing and an entrepreneurial/naïve belief that I could teach myself the requisite copywriting skills.
The first few years were tough, to put it mildly. But eventually after building my portfolio, developing my skills and marketing myself relentlessly I was able to attract enough clients to maintain a stable income in a career I enjoy. Would I follow the same path if I were to do it all again? Probably not. If I was starting from scratch a second time I'd seek copywriting skills training so I didn't jump in at the deep end without knowing how to swim, let alone without a paddle.
The common advice – read and practice a lot
Common advice to aspiring writers is to read and write a lot. The same is true of copywriting. The first port of call is to read through all the copywriting classics by David Ogilvy, Drayton Bird, John Caples and Claude Hopkins. These will give you an overview of the copywriting rules that have served copywriters well for decades, and will continue to do so for decades to come. Times change, people don't.
My next advice to aspiring copywriters is to practice writing press releases, articles, sales pages, case studies and all the other types of marketing collateral that businesses require. This will enable you to practice all the key principles and to develop a concise and persuasive writing style. But whilst you can teach yourself to become a copywriter, sometimes a more structured approach to learning is more beneficial.
An approach that teaches you all the nuts and bolts while giving you opportunities to practice along the way. In other words, it can be more effective to undertake a copywriting course which will teach you, step by step, how to become a copywriter, rather than try to piece it all together yourself.
The Step by Step Copywriting Course Review
The Step by Step Copywriting Course is a training system for website owners, business managers or professional copywriters wishing to improve their persuasive writing. Put together by professional copywriter Karon Thackston, The Step by Step Copywriting Course packs in everything you need to know about improving your website's copywriting, whether it's B2B, B2C, ecommerce, online brochure or any other type of marketing website. The Step by Step Copywriting Course comprises of 10 videos in which Karon explains all the key concepts of writing for the web.
This includes how to unlock the communication preference of visitors, how to create a unique competitive advantage, how to write headlines that reel in readers, the power points of copy, SEO for people and bots and much more. What's more, The Step by Step Copywriting Course also includes in depth case studies, cheat sheets, working sheets, planning guides, private webinars and teleclasses and three eBooks which explain some of the principles in more depth.
Throughout the course, Karen sets tasks and assignments. This enables you to gain practical experience and to develop your copywriting skills as you progress through the course.
Improve the search engine ranking and conversion rate of your website
As the reviews on her website testify, Karon's Step by Step Copywriting Course has helped many people to improve their website copywriting. Along with keeping people engaged for longer, her SEO copywriting advice has helped people to improve their website's rankings and its conversion rate. So if you've been looking for a more structured way of developing your online copywriting skills, beyond the vague advice of reading and writing a lot, check out Karon's course to see if it provides the step by step guidance you need to be successful.
The Step by Step Copywriting Course is available with a 30 day money back guarantee. So if you aren't happy with the course material then you can simply get your purchase refunded, enabling you to try it out risk free.
Disclaimer – The links to the Step by Step Copywriting Course in this article are affiliate links. But with a 30 day guarantee, why not check it out to see if it can help to make your copywriting more concise, credible and persuasive.